Prestige (Gold Foil) Checks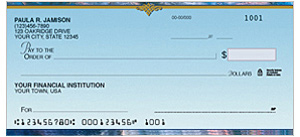 This classic style check comes with gold foil lining on the top set across a blue background. It's simple yet classic style is appealing for all.

Singles - 5 pads/125 checks per box.
Duplicates - 5 pads/100 checks per box.

GREAT VALUE! Buy checks, labels and a checkbook organizer and SAVE 10%*


*Discount is applied to product price only. Does not apply to tax, shipping or handling.
Also Recommended: