Puppy Love Checks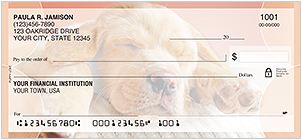 There's nothing cuter than puppies and this check series is full of them. The design features 4 scenes containing trios of Yellow Labs, Boston Terriers and Bison Frises and a scene of a sleeping Lab pup. Don't get sent to the dog house, add these pups to your checkbook today!

Singles - 5 pads/125 checks per box.
Duplicates - 5 pads/100 checks per box.
Also Recommended: